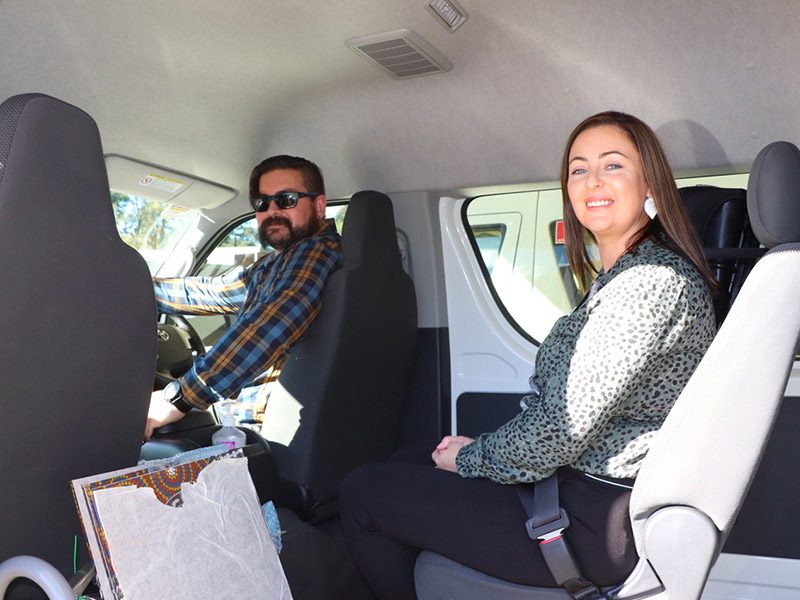 Two of the friendly Up and Go Bus crew, driver Chris Edwards with Support Officer Krystle Petrovski
There has been a lot of learning at home lately and for some students this has been a fairly easy transition. For those who see school as a safe haven, remote learning has not been so easy.
This is where one vital service offered by Catholic Education Diocese of Parramatta's Wellbeing Team, the 'Up and Go Bus', is so important. Before COVID-19, the bus service picked up 30-40 students and delivered them to schools in the greater Mount Druitt area. The students also get an 'Up and Go' for brekky on the road!
Wellbeing Team Attendance Coordinator Cate Munro said the service began in 2017 as part of CEDP's Every Learner Every Day initiative to support regular school attendance. With two 12 seater buses, the crew includes drivers Chris Edwards and Mike Jacobson, plus support officers Krystle Petrovski and Lisa Eastwood.
"The Up and Go bus is designed to support schools, parents and students who are experiencing significant barriers to attending school regularly," Mrs Munro said.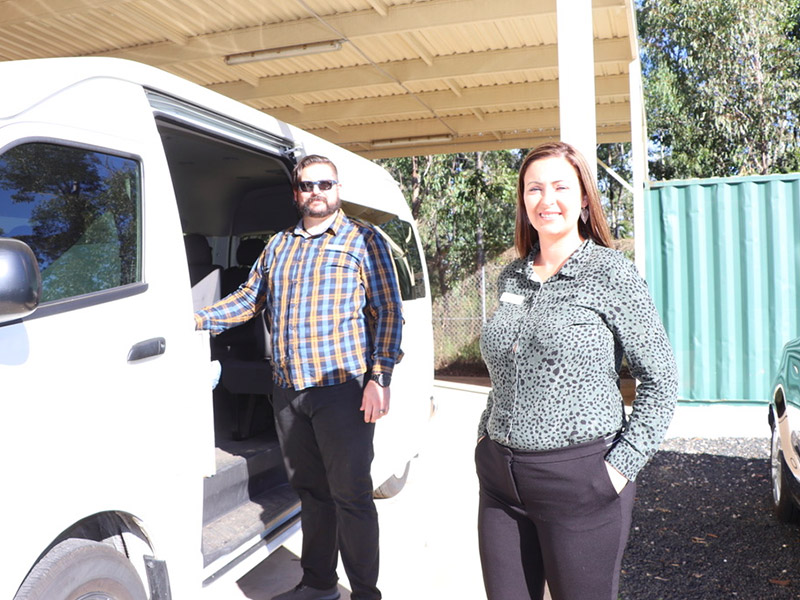 The up and Go bus service really makes a difference in the lives of the students it looks after
However, as the learning environment changed for students due to COVID-19, the number of young passengers had decreased considerably. So the team came up with an alternative use for the service.
"A lot of families who use the service also struggled to have access to technology to support students to learn from home. We offered to pick up learning packs which included the technology they needed and dropped them off to the family home," she said.
"That has kept the crew busy and has also offered schools like St Joseph's Primary Kingswood, Holy Family Primary Emerton and St Aiden's Primary Rooty Hill some extra support. This makes sure all students have the best opportunity to continue their learning from home."
Support Officer Krystle Petrovski said they make sure they offer a reliable and consistent service and by doing so she has noticed this has helped with creating a good relationship with the students. "We have all formed a really nice bond with the students and it is great to watch them as they grow and become more confident," she said.
Driver Chris Edwards said for the last four weeks of Term 1 he and Mr Jacobs have been delivering education packages to the students, which has included ChromeBooks for some of them. "It is nice to see the kids get a bit of a thrill when they get their special package and see how much their school cares about them," Mr Edwards said.
The crew are working on the logistics of offering a food package service to families in need too. They are hoping to get that up and running soon.